just wanted to post a quick one before i wrap up the night. its been 1 week (plus a couple of days i think) straight working till 5.30 in the morning then sleeping for about 4hrs then getting up and repeating the cycle all over again. Officially i am brain dead working on instincts only.
here is something interesting that i found on the internet when i googled for images to use for the tesco project. the resolution is terrible but you can just make out the writing. its a singaporean police report which was hillarious to read. When i find the original source of this picture *who posted it* i will link it here.
also came across a couple of interesting blogs which i know its worth mentioning here. I've spent some time reading them and the open thoughts especially coming from singaporeans. i saved the urls but my bookmarks is in a mess right now. have been saving all sorts of links on firefox and its so long that you have to use the arrow to scroll up the list just to click on the "bookmark this" link.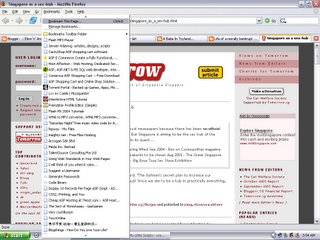 and you thought i was joking when i had to scroll up just to hit the bookmark link. you also probably notice the heading on my firefox browser... i was reading up at this other blog (again singaporean for i have no idea why most of the search results came back from singapore) about singapore being used as a sex-hub. that doesn't mean i look down on my friends over there. i do have wonderful friends who live a normal life. then again what is a normal life?
Update!
Angel received the second call back from game flier yesterday morning! Congratulations! her training starts this friday for 2 days. Then its entirely up to her if she wants to stick this job. As for me i found an add in the papers that caught my attention. its to work with e-Genting group. Sending in my resume soon once i get it done. have been putting it off.
Project Status:
Roman Rock 98%
Tesco Smart Trolley 70% (user requirements changed)
now what did i call the last project?? 85%
Brain Status:
Clocking at 100% used